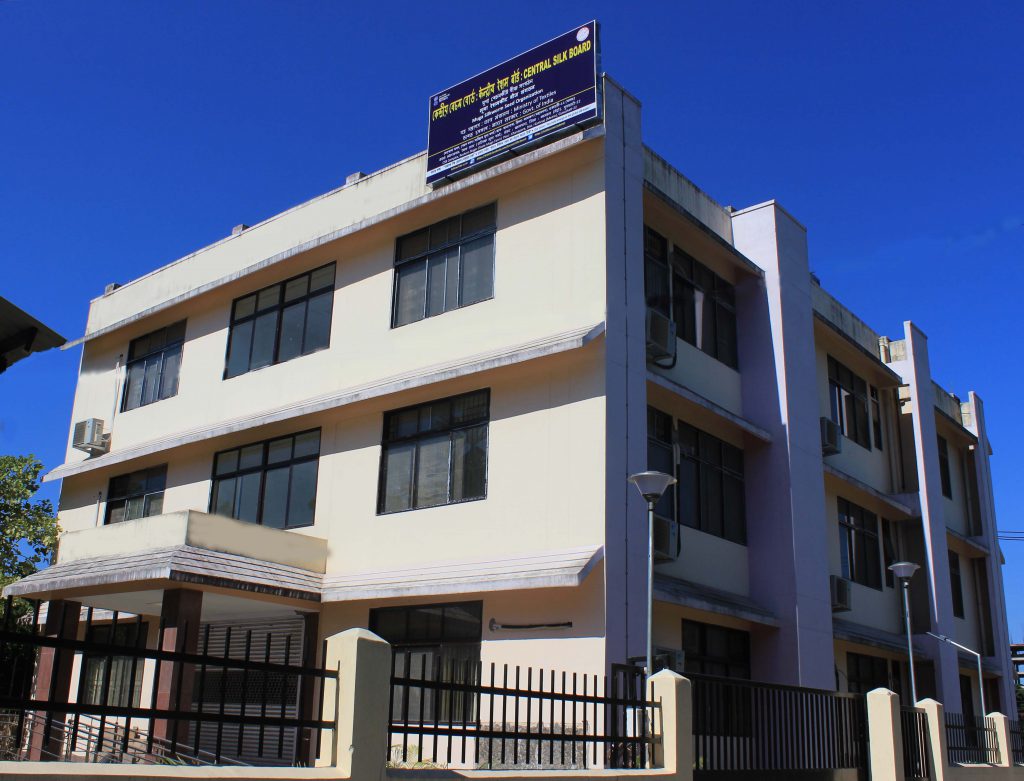 Muga Silkworm Seed Organization (MESSO) established during 2005. Presently, 02 P4 Seed Stations, 08 P3 Seed Stations and 02 Muga Silkworm Seed Production Centre are functioning under MESSO.
Similarly, Eri Silkworm Seed Organization (ESSO) came under MESSO during 2005-06 and presently 02 Eri Silkworm Seed Production Centres (ESSPCs), 01 Eri Basic Seed Farm are functioning under ESSO, Guwahati.
The main mandate of MESSO
Maintenance of parental at P4 units to produce P3 seed
Conduction of P3 rearing to produce P2 dfl.
Generation of seed cocoons through P3, P2 & P1 ASRs assisted under MESSO seed stations
Monitoring of P3 & P2 rearing and grainage activity
Production of commercial dfls through SSPCs.
Adoption of private graineurs for assistance in production of quality basic/commercial seed support
Likewise, Basic Eri seed farm is maintaining the parental stock and produce the basic seed for the ESSPCs as well as different state department also. The ESSPCs are producing commercial seed by procuring seed cocoons from the ASRs. The commercial Eri seeds are mainly supplying to Uttar Pradesh and needy North Eastern states.
In addition to producing Muga and Eri Basic and commercial seed the units are involved in dissemination of improved technologies developed by R&D Institute through different extension events
Nested Units and their Incharges
MESSO
Name of the Unit Incharges with their contact number

P4 Unit / SSPC, Tura, West Garo Hills

Dr. Indirakumar K., Scientist-C

Mobile No. 9698936582

Email:mssotura@gmail.com
poochimb@gmail.com

P4 Unit, Mendipathar, East Garo Hills

Shri Mahasankar Majumdar, Scientist-C

Mobile No.9635280332; 9474925651

Email:mendipatharp4@gmail.com
maha.majumdar@gmail.com

P3 Unit, Rompara, East Garo Hills

Dr. Vikram Kumar, Scientist-C

Mobile No. 8901419570; 7084215480

Email:vikgadi@gmail.com

P3 Unit, Adokgiri, East Garo Hills

Shri Arna Singh Deuri, STA

Email:mssoadokgiri.gmail.com




P3 Unit, Nongpoh , Ri Bhoi

Shri Abhishek Singh, Scientist-B

Mobile No. 7905106039

Email:msso_nongpoh015@rediffmail.com
abhisheksinghcsb@gmail.com



P3 Unit, Hahim, Kamrup (R)

Dr. Manabendra Deka, Scientist-D
Mobile No.9957124656

Email:mssop3unithahim@gmail.com

mdeka33@rediffmail.com

P3 Unit, Narayanpur, Lakhimpur



Smt. Bimala Gogoi, STA
Mobile No. 9957906428

Email:msso.csb.narayanpur@gmail.com




P3 Unit, Pilapool, Silchar, Cachar

Dr. N. Mohendra Singh, Scientist-C

Mobile No.8414873360

Email:mssop3unitpailapool@gmail.com
ningombammohindro@gmail.com

P3 Unit, Kowabil, Kokrajhar

Shri Lila Kanta Lahon, STA
Mobile No.9435113085

Email:kowabilnertps@gmail.com



P3 Unit, Kublong, Mokokchung

SSPC, Kaliabari, Boko, Kamrup (M ), Assam


Shri Malk Ali, STA
Mobile No. 6001346409
Email:sspckaliabarimuga@gmail.com



Name of the Unit Incharges with their contact number

ESSPC / P2 Eri Basic Sed Farm, Topatoli, Kamrup Metro, Assam

Dr. N. Lalitha, Scientist-D

Mobile No.7602613476

Email:p2eribasicseedfarm@gmail.com
lalitha.nm@gmail.com

Dr. Prateesh Kumar PM, Scientist-D

Mobile No. 7892314578

Email:erip2farmhouse@gmail.com
pratheesh.pm@gmail.com